How to reduce fuel waste with telematics
Did you know that letting an engine idle for 10 seconds consumes more fuel than stopping it and restarting it? Telematics might not be able to reduce the prices at the pump, but the data that it produces can help you identify driving behaviours and activities, such as idling, that are leading to fuel waste.
How to cut the cost of fuel with telematics
Fuel can constitute up to 30% of a fleet's annual costs. So it's no surprise to see that many organisations are searching for ways to reduce the bill. Here are five ways that telematics can be utilised to reduce fuel spend.
1. Educate reckless drivers
How often do your drivers put the pedal to the metal, idle excessively or slam on the brakes before a turn? All of these actions waste fuel.
Teach them how to drive more fuel-efficiently with instant in-cab coaching. When a harsh event occurs, a small dashboard-mounted device will emit an alarm to warn the driver about their actions. Each event is also recorded and added to the driver's overall driving behaviour score, which enables back-office staff to identify best practice behind the wheel and highlight any additional training needs. In addition, drivers can view their individual score on a free mobile app (displayed below) and where they rank within the fleet, encouraging friendly competition and promoting safer driving.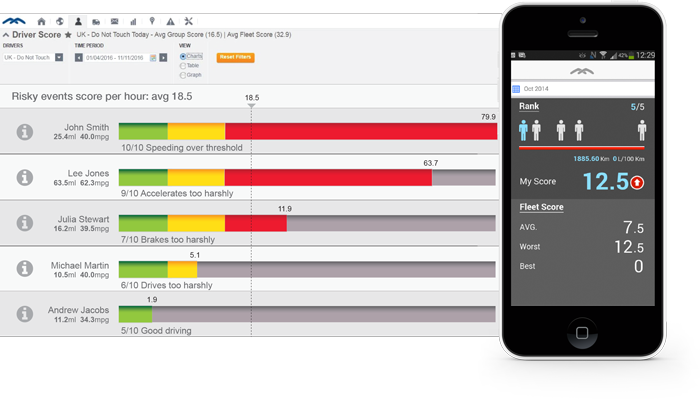 2. Dispatch closest drivers
A customer calls at short notice to ask for emergency work. With telematics, you can locate the nearest vehicle and most appropriate driver for the job - in seconds. That way, you'll not only reduce company mileage, but also admin time and hassle for the customer.
3. Reduce engine idling
Contrary to popular belief, cutting and restarting the engine is not wasteful. Installing telematics devices in your vehicles enables you to detect when a vehicle is stopped with its engine running, and for how long. You can also track wasted fuel in real time. This information can then be used to inform and educate your drivers.
4. Separate business & private mileage
Telematics gives businesses the ability to track every mile driven. Non-optimal routes, detours, unauthorised journeys... all of these activities become visible and can be queried with drivers to reduce wasteful behaviour over time. Many of our customers have found a big screen with a live map in their offices very effective.
5. Schedule more efficient routes
Advanced planning of the day's trips reduces unnecessary detours and get drivers to their destinations in fewer miles, which saves time and money. With telematics in place, you can easily calculate the shortest route per driver, using online maps, live traffic and historical data.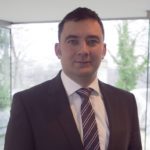 By
Mike Hemming

on Jun 10 2018

Experienced Professional Services Director with a demonstrated history of working in the information technology and services industry, providing data analytics consultancy and project management services. Over 12 years telematics experience, deploying global solutions to all industries, and providing expert analytics to drive change.