Transitioning to electric: how fleets can switch to plug-in vehicles
There's a lot of talk about electric vehicles but less about the practicalities of operating them, and despite the basket of environmental and cost benefits in their favour, it isn't simply a case of ditching diesel for a plug socket. In Masternaut's Transitioning to an Electric Fleet report, we examine the most pressing issues facing businesses that rightly want to make the leap to successfully running plug-in vehicles – and how they can overcome them.
Room for improvement
You don't have to look far to see just how daunting a prospect electric vehicles can be for fleets. Data from our customer base shows that the healthcare sector operates the highest proportion of electric or hybrid vehicles of any UK industry, but at 1.9%, it's little more than a fraction of the bigger picture. At the bottom of the scale is the retail sector, in which a mere 0.1% of working vehicles are electric or hybrids. To put it mildly, there's room for improvement when it comes to the number of plug-in vehicles used by today's businesses.
So how does a firm shift its fleet from purely internal combustion to a healthy portion of plug-ins? More than anything, the organisation needs to examine its own requirements and infrastructure before it takes the plunge; as great as ordering a batch of electric vehicles looks – and there is undeniably an associated element of eco-friendly image – if neither the company nor its drivers have easy access to charge points, it spells trouble later on. Those that thrive have really considered where, when and how the vehicles will top up their batteries, whether that be at their premises, at public charge points or at employees' homes.
Coming together for electric fleet
As our report explains in detail, strong internal support for an electric fleet from multiple parties within the organisation is essential, as is a thorough assessment of routes, mileage and the types of vehicles that could realistically be replaced with plug-in equivalents. Typically – but not always – vehicles that regularly undertake short, local journeys are excellent candidates for electric.
Equally, businesses shouldn't feel hamstrung by the types or performance of electric models currently on the market. Battery technology is rapidly advancing and there are so many promising cars and vans with the capacity to travel ever further on a single charge on the cusp of production, that it may make sense to hang on for the right one.
Finally, it's important to understand that petrol and diesel still have their places on a modern fleet and that it's absolutely possible to pragmatically reduce your carbon footprint and continue operating them in the right circumstances. As inevitable as electric vehicles are becoming, a diesel engine, for example, often remains the most appropriate option for high-mileage, motorway duties. Telematics data analysis has been helping businesses cut their fuel costs for all types of vehicles and journeys for a long time, too – a practice which continues for petrol, diesel and even electric vehicles to this day.
Download the report for Masternaut's full insight and analysis about transitioning to an electric fleet.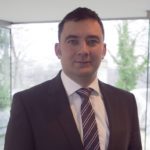 By
Mike Hemming

on Jun 11 2019

Experienced Professional Services Director with a demonstrated history of working in the information technology and services industry, providing data analytics consultancy and project management services. Over 12 years telematics experience, deploying global solutions to all industries, and providing expert analytics to drive change.