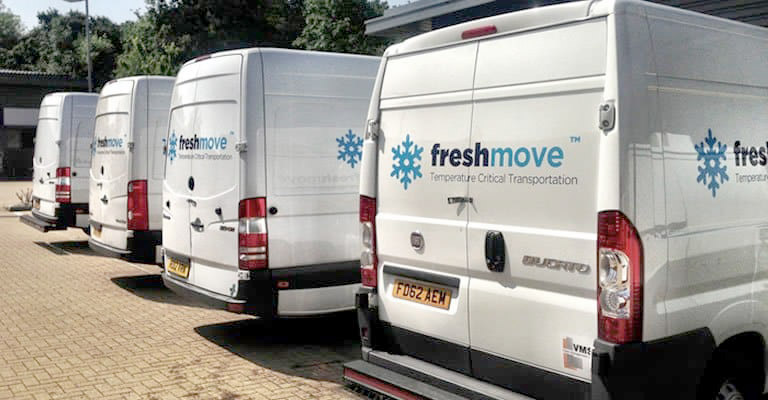 Masternaut Connect Cold and Freshmove
Helping Freshmove go the extra mile to deliver excellence.
Freshmove, one of the UK's most prominent temperature controlled logistics services, began using Masternaut's Connect Cold telematics system in 2018 to help them deliver unbeatable customer service and incredible standards.
Delivering excellence
For Freshmove, a main driver for installing Masternaut telematics into their fleet was to ensure their customers could access a live refrigerated transport tracking service. This meant that their customers could remotely track the exact location, temperature and estimated time of arrival for their delivery without having to contact the driver directly. With 16 vehicles on the road at any given time, and with over 300 movements per week, Freshmove quickly saw the advantage of Connect Cold's automatic data tracking features.
Connect Cold also ensured that every Freshmove vehicle carrying temperature critical items was compliant with industry standards and regulations. For their customers, like Domino's Pizza, who require a full temperature report for their dough's entire journey, Freshmove can provide a far more accurate and instantaneous report thanks to Connect Cold.
"We can now provide accurate and instantaneous reports to our customers."
Optimising operations
Drivers, who used to have to manually record, print and write temperature reports, have reduced admin hours thanks to Connect Cold's automatic temperature monitoring system. Being able to instantly print temperature reports and journey tickets is saving Freshmove drivers between 30 minutes and 1 hour every day. For their biggest customer, who spends £250K with Freshmove every year, these temperature reports are compulsory. Without the accuracy and accessibility of Connect Cold, maintaining this large contract would be considerably harder with drivers having to create manual reports, which are at risk of costly human errors.
"Our operations team are also able to work more efficiently" according to Chris Denoven, Freshmove's Managing Director, now that they are able to access data remotely. "Being able to monitor a vehicle's location or temperature from our phone has made a lot of difference without the onus being on the driver."
"Real-time data saves our drivers up to an hour a day."
Looking to the future: Expanding into new markets
Freshmove have also benefitted from Connect Cold's wider telematics features, such as monitoring driver safety and route tracking. This data has enabled the team to make changes to their fleet and business' operations to increase efficiency and cost-effectiveness. Once their route planning initiative is fully rolled out, they expect to save between 5-10% on yearly fuel costs.
"We can save up to 5-10% in fuel using Masternaut."
Maximising fuel efficiency
Freshmove are looking to expand their pharmaceutical offering over the coming year, which currently makes up 10% of their deliveries. To help meet their targets, they are using Connect Cold's telematics as a competitive advantage to offer advanced temperature monitoring, which is expected as standard by pharmaceutical brands.
Backed by Masternaut's market-leading reputation and Connect Cold's advanced technology, Freshmove are ready to steer into 2019 with an unbeatable competitive advantage. See how Masternaut can help unlock your business potential here.
"Masternaut definitely makes us more competitive, there's no two ways about it."
Contact our Cold Chain specialists
Want to find out what Connect Cold could do for your company? Contact our team for a free personalised demo.
BACK TO ALL