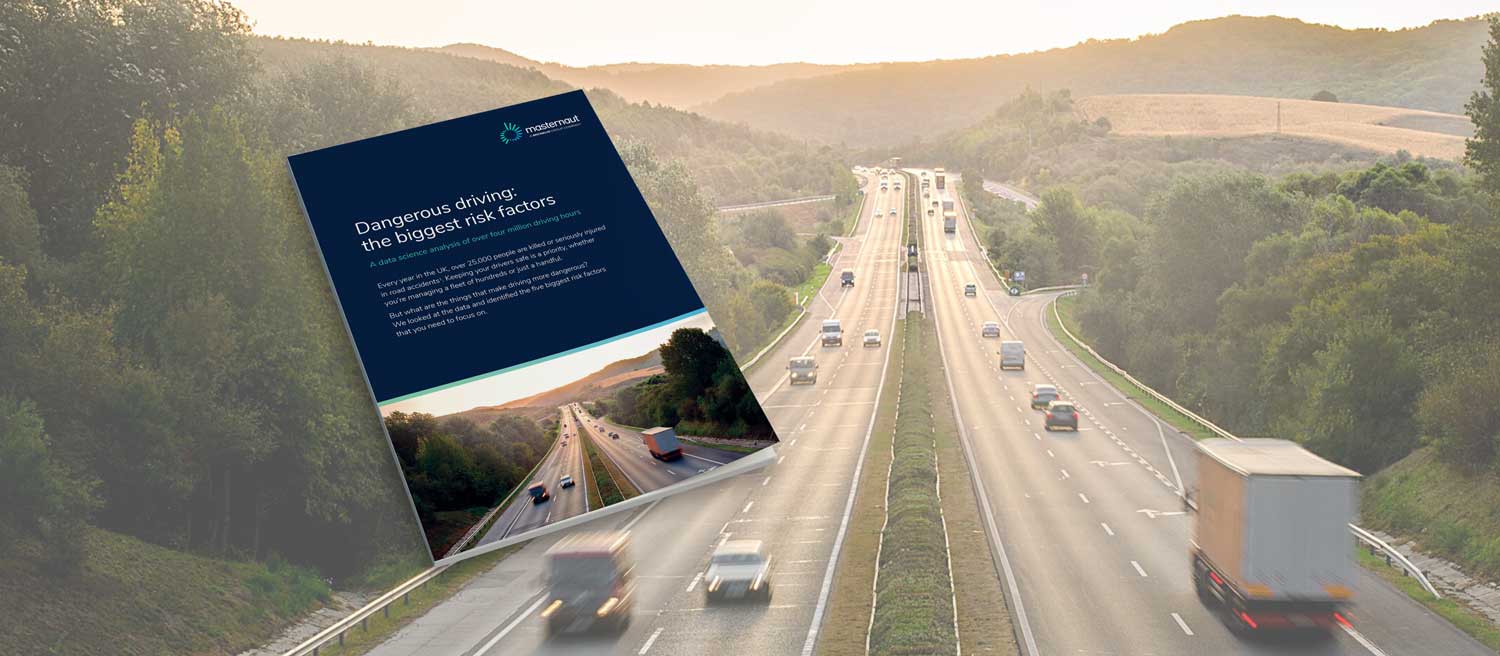 Bad driving is the number one reason for road accidents in the UK, according to research led by telematics supplier Masternaut. The report analysed 192,503,863 kilometres driven, over the course of 4,121,283 driving hours, and identified the five biggest risks including bad drivers, road type, shift length, sun position and day of the week.
Bad drivers
The research also analysed the most common warning signs of bad driving behaviour. Harsh braking came in at number one, followed by harsh cornering and speeding. Unsurprisingly attitude and performance on the road do give an early indication of greater accident risk.
Road type
Road risk isn't only down to the driver themselves, however. Road type accounts for the second biggest factor in likelihood of an accident occurring. While it's well cited that motorways are the safest roads, the research gives greater insight into this dynamic. Motorways also happen to be the roads where fewer harsh braking incidents take place. In general, these roads provide better flow, and while speeds are higher, cars are also usually further apart, avoiding the need to brake and accelerate so frequently, and completely removing the need to corner. Urban roads come out as the most dangerous, with higher levels of harsh braking witnessed. While some of this effect may be due to the stop-start of city traffic, urban areas also carry higher levels of vulnerable road users, such as pedestrians and cyclists, making this an important consideration.
Shift hour
On average, the report showed that a driver performs 50 per cent more harsh braking events during their last hour of driving, compared to their first hour. This has serious implications both for people completing long journeys for work, or for those travelling for personal reasons. Planning regular stopovers or breaks are essential, as is businesses planning shift lengths to reflect driver fatigue.
Sun position
There is a 13.9 per cent higher rate of harsh braking when the sun is prominent, likely due to dazzle or overconfidence. Perhaps surprisingly, the frequency of harsh braking actually decreases during rain and snow as drivers become more cautious. Time of year also plays a factor – research from the RAC Foundation reveals that there are 20 per cent more crashes per day when daylight saving ends and the clocks go back, as the afternoons get darker earlier.
Day of the week
Finally, days of the week. On weekdays, harsh braking remains consistent, but increases drastically (by 21 per cent) during the weekend. Factors for this likely include drivers feeling more relaxed, with fewer cars around, making it easier for them to accelerate and causing more of a surprise when they come across other vehicles.
Dhruv Parekh, CEO of Masternaut says: "With a majority of drivers claiming to be better than average, it's interesting to see once again that it's behaviour which is the key influencer in road accidents. However as we head into the darkest time of the year, all drivers need to be conscious of planning their journeys where possible to use the safest roads, and travel for safe lengths of time, at the safest times of the day. For businesses planning shift patterns, this is particularly important, with those driving for work being one of the highest risk groups on the road."
To find more about the research