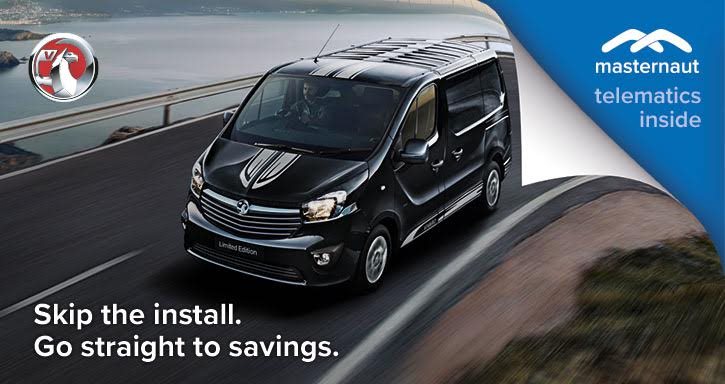 Masternaut and Opel/Vauxhall join forces to offer pre-installed telematics
18 May 2017 - Vauxhall / Opel and Masternaut have announced an exclusive partnership to provide fleet telematics services to commercial vans. As of May 2017, businesses can purchase Opel and Vauxhall vans with Masternaut's telematics devices pre-installed, eliminating deployment time, hassle, and cost. These vehicles are then managed via the industry-leading platform Masternaut Connect, which helps customers realise substantial gains in safety, savings, service excellence, and sustainability. This offer will be available in the UK, France, Germany, Belgium, the Netherlands, and Luxembourg.
The benefits in short:
Management of commercial fleet data via a powerful B2B software platform
Customers avoid the cost, hassle and time of installing telematics
One partner to talk to - get everything from the Opel or Vauxhall dealership
Industry game-changer
This partnership doesn't only help Vauxhall respond to business customers' needs, it is a significant milestone for the rapidly growing commercial fleet telematics industry. Industry analysts estimate that over 10 million commercial vehicles in Europe will be managed with telematics by 2020, representing growth of 20% per year. Part of this growth will come from reducing hurdles to deployment, which include taking productive vehicles off the road and incurring separate installation charges.
The CEO of Masternaut, Dhruv Parekh, believes that pre-installed telematics is a game changer: "The telematics industry has witnessed impressive growth in recent years, but many companies still want easier installation. Despite its proven benefits, telematics is still only installed in a tenth of European commercial vehicles. We are proud to partner exclusively with Opel and Vauxhall to bring Masternaut's leading technology to market in a simple and efficient way."
With connected car and autonomous vehicle trends accelerating quickly, vehicle manufacturers are investing heavily in technology development and strategic partnerships. Opel and Vauxhall are part of GM, the second OEM to partner with market leader Masternaut, following PSA Group's Peugeot, Citroën and DS. While Vauxhall use their own technology for cars, they sought an experienced partner to serve their business customers' light commercial vehicles.
Technology that saves time, money and lives
Vauxhall chose Masternaut as their exclusive partner due to their industry-leading technology which, unlike other devices, reads data directly from the vehicle in a fully secure way, without risk of interference with vehicle systems. Steffen Raschig, Director Commercial Vehicles Opel & Vauxhall, said, "We were already interested in working with Masternaut, as they are one of the largest telematics providers globally. We decided to build a deeper partnership as we learned more about Masternaut's patented hardware. The device provides read-only access to all vehicle data, providing our customers much richer insights than other telematics devices offer. We were also impressed with Masternaut's new enterprise-grade Connect platform, which is intuitive and easy-to-use."
With Masternaut Connect, customers have real-time visibility into vehicle locations and journeys, and they also receive smart reports on driver behaviour, timesheets, vehicle utilisation, and routes. Customers can add an in-cab driving coach that provides immediate feedback and has been shown to reduce speeding by up to 70%.
Masternaut recently conducted research across 10,000 vehicles in its customer base, finding that its technology lowered fuel consumption by 220 litres per vehicle and total fleet running costs by £660 per vehicle annually, resulting in a 3-5x ROI. In addition, smart reports and in-cab coaching help drivers to significantly reduce harsh driving events and speeding, keeping them safe on the roads. Every year, Masternaut's 10,000+ customers avoid 300 accidents and reduce the release of CO2 by 230 million kg.