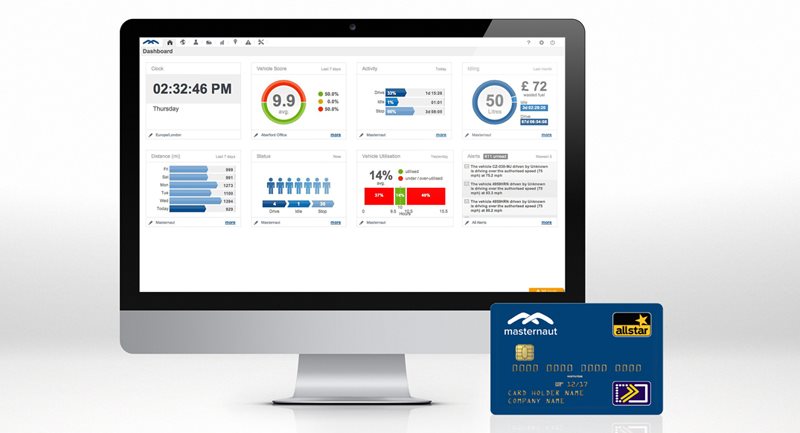 Masternaut launches fuel & maintenance card
Masternaut and Allstar Business Solutions, both market leaders in their respective fields, have partnered to launch a smarter fuel card solution. Masternaut's Fuel & Maintenance Card links straight into its telematics platform, providing alerts on misuse and automatic reports to save time and money.
By combining a strong software platform, location data, and fuel cards, the Fuel & Maintenance Card gives HR, Fleet Managers, and Operations Managers the tools to save time and money in a smarter way:
Save admin time for drivers & HR, with automatic reports
Stop misuse without tedious, manual checks
Save money on petrol and maintenance with the biggest networks in the UK
Fuel, an already costly element of running a business can be an area open to error or fraud. When asked, 19% of drivers admitted they 'guesstimate' the distances they have driven and 36% said they intentionally overclaim on business-related expenses, resulting in a potential £1.6bn damage to the British economy. Fuel cards, used to pay for 20% of transactions at petrol stations, offer a first line of defence and control against misuse, linked to a driver or vehicle. But with the addition of telematics data, managers can now have a superior level of control and insight into expenditure.
The new Masternaut Fuel & Maintenance Card has been designed to simplify claims and identify misuse, by combining fuel card data with Masternaut's vehicle tracking data. It is seamlessly integrated with Masternaut Connect, the smarter fleet platform, and provides auto-reporting on any discrepancies.

Simplify admin
Currently, drivers spend at least an hour per month on processing expenses - 36% of drivers spend two hours, and 10% spend three hours per month. Automated online reporting means drivers can focus on the job at hand, and admin personnel don't have to waste precious time at the end of the month on manual checks.
Stop misuse
By combining the location of fuel card transactions with vehicle location data, Masternaut can identify when drivers are using their fuel cards for non-approved or unknown vehicles. Automatic reports highlight the purchase of premium fuel or non-fuel items.
Save on petrol and maintenance
Masternaut Fuel & Maintenance Card users receive the same benefits as market leader Allstar's card users: they can make savings on diesel at 1,800 discounted sites and access to the UK's largest multi-branded network of 7,600 sites, including all major oil and supermarket brands. That means minimal route deviation and driver downtime in order to obtain fuel, further reducing fuel spend and carbon footprint.
In addition, users of the card will have access to pre-negotiated discounted rates on labour and parts from over 9,000 garages and a convenient online booking service.
Mike Hemming, Masternaut's UK Professional Services Director, commented, "Fuel represents a large chunk of a fleet's operating cost, and it can be very time-intensive and manual to analyse fuel misuse and over-claiming. The true integration between Masternaut fuel cards and our Connect platform will cut your admin time by instantly highlighting any discrepancies straight to your inbox."
Tony Murtagh, Director of Sales at Allstar, said: "We're delighted to be partnering with Masternaut on this intelligent new fuel and maintenance card solution. The combined data and analytics that customers will be able to benefit from will provide a 360 degree view of fuel spending and usage, enabling identification of weak points and inefficiencies that can swiftly be improved to reduce spend and increase productivity to the benefit of both drivers and managers."
Dhruv Parekh, Masternaut's CEO, commented, "We're passionate about helping our customers be smarter about savings. Through automating manual tasks, lowering wasteful behavior, reducing unnecessary claims, and through discounted maintenance pricing, many of our customers are seeing substantial savings. The holistic view Masternaut provides on distance traveled, fuel misuse, and mileage expenses enables businesses to reduce their fleet's total cost of ownership."

For more information, please visit our fuel & maintenance webpage.