Make your fleet more efficient with our new driver behaviour scores
The driver is the most important component of any fleet. They are the single biggest influence on fuel consumption and safety. Even if you use the best vehicles and spend time analysing the most efficient routes, driver behaviour has a significant impact across key performance areas.
Monitoring and improving driving behaviour, therefore, is vital for fleet efficiency. A good driver behaviour programme will improve safety, increase savings and boost sustainability for your business. It also benefits drivers by enhancing their own road safety and encouraging better engagement in their role.
Our driver behaviour solution combines real-time feedback with after-the-fact scoring and analysis. In-cab coaching in the form of a small light-bar gives instant audio and visual feedback in instances of poor driving, encouraging drivers to correct their behaviour immediately. However, in order to encourage proactive as well as reactive change, you need an effective scoring system to measure behaviour.
The difficulty of scoring driver behaviour
You need to score your drivers in a way that's logical and easy to translate into action. Most solutions use a single score to measure driver behaviour. This might make high level comparisons easy, but it doesn't give you the full picture.
For example, let's assume that drivers are ranked from 1 to 10, with 1 being a bad driver and 10 being perfection. If John and Jane are two drivers with a score of 4, we know they could be both doing a lot better – but their habits might be very different. John never speeds but frequently brakes harshly, whereas Jane always drives smoothly but spends lots of time idling. To give them both the same feedback and training wouldn't be an effective way to improve their behaviour.
Our driver behaviour scoring solution
Our new solution separates driver behaviour into three scores, each of which relates to a different aspect of driving:
Smoother: driving without harsh acceleration and braking
Safer: driving within the road speed limit
Cleaner: turning the engine off when stationary
These scores give you more precise information that can be acted on easily and meaningfully. Let's return to our earlier example. With our new scoring system, John's frequent harsh braking gives him a poor Smoother score, while Jane's idling gives her a low Cleaner score. Therefore, you can easily identify that John brakes harshly and needs to improve his anticipation, while Jane needs to change her habit of not turning the engine off while stationary. Both drivers can now receive relevant training or briefings that will target their specific poor behaviours - and that's not the only way our solution can help.
Compare drivers easily
Within our Connect platform, a driving behaviour dashboard provides an overview of your fleet's performance, as well as individual drivers. You'll see a league table ranking the three best and worst performing drivers, meaning you can easily identify who to praise and who may need extra training. For a full table of all your drivers, you just need to click the 'Show more' button at the bottom.
Set realistic targets to inspire improvement
We give you the data to help you set informed, realistic goals. The best way to do this is by using trends and benchmarking. In Connect, you can view historical trends by fleet and by individual driver, giving you a better picture of behaviour over time. This ensures you're acting on a fair representation of performance rather than exceptions.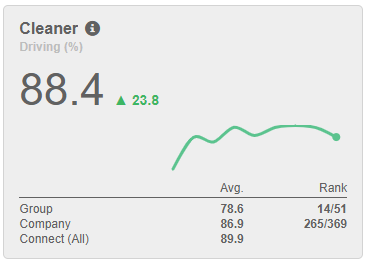 Benchmarking shows how your company compares to the average score of all Masternaut users, as well as where your drivers rank. Individual driver performance is ranked within their group and against the whole of your fleet. This information gives you greater context for target setting: using your best drivers as a benchmark is a way of praising those who are performing well, while encouraging their peers to reach the same level.
Use our tools to implement a driving behaviour programme
Now you've got all the data to improve driving behaviour, what's the best means of putting it into practice? One of the proven ways to bring about change is to introduce a driving behaviour programme across your fleet. It could be as simple as posting a weekly chart of the best scoring drivers in your staff rooms. Or it could involve incentives (vouchers, cash, extra holidays) for whoever finishes top of the table each month.
Whatever the finer details, the important thing is that it nurtures an environment of friendly competition. Whether it's through the prospect of rewards or a sense of personal pride, motivating drivers is the key to success. Ultimately, an engaging programme helps drivers as much as management by improving fleet safety. The fact that safer driving also means more cost effective and environmentally friendly driving makes the potential gains enormous.
You can contact our team through the driving behaviour page on our website.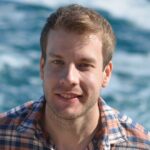 By
Tom Brown

on Mar 15 2019

A copywriter with a diverse background in marketing, I've dabbled in a variety of sectors including retail, education and gaming. But whatever the industry, whatever the format, writing is always about effective communication. In my role at Masternaut as Product Marketing Manager, my aim is to tell our customers about how telematics can improve their fleet management.