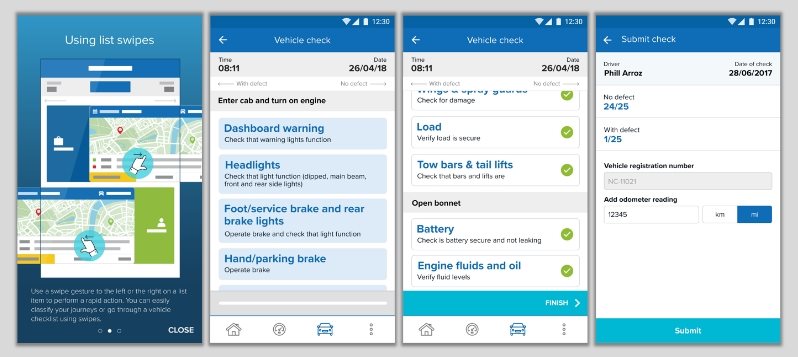 Simplify vehicle checks with SmarterDriver
In a bid to reduce administration and improve efficiency for fleet drivers, our SmarterDriver app has been upgraded to allow drivers to carry out vehicle checks completely electronically.
The DVSA process of performing a daily walkaround check of the vehicle every time it is used has historically been a paper-heavy process for drivers and managers, involving filling in a form to assess condition or highlight damage.
With the new app functionality, drivers simply run through a 20-point checklist on a smartphone, swiping right if the item is in good order, or left if there is an issue to report. This checklist is based on the DVSA and FORS van check recommended for driver safety and vehicle maintenance.
Designed primarily as a tool for drivers, this app also allows fleet managers to keep a running check on the condition of their vehicles to manage both safety and efficient maintenance schedules within their fleets, from their computers.
Victoria Choksi, Product Manager at Masternaut said: "Swiping left and right is becoming the norm in all areas of our lives, from messaging apps to social media. We wanted to reflect this intuitive functionality in our technology, producing an app which makes it much easier for drivers to carry out the most routine tasks".
"This new vehicle check came about as a result of driver feedback and we will continue to develop it with findings from the beta phase. In turn, this will help fleet managers improve DVSA and FORS compliance in their fleets, allowing them to have immediate access to maintenance standards across the fleet."
Available on both iOS and Android, the new app is free to new or existing clients, who use Masternaut Connect fleet management service.