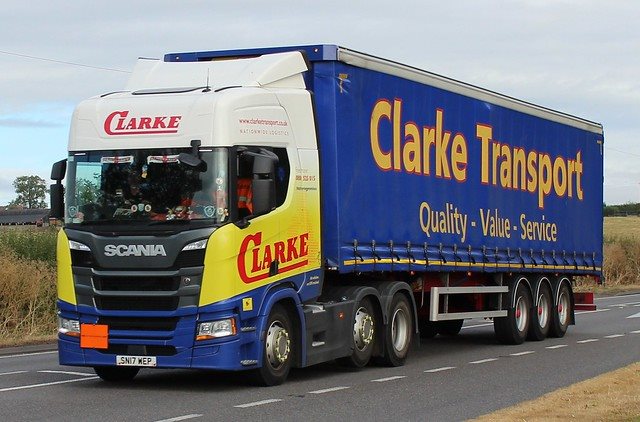 Clarke Transport engaged Masternaut to help them lower their insurance premiums. Together, they ended up unearthing savings opportunities across the business.
Customer overview
Clarke Transport is a family business – one of the leading privately owned multi-service transport organisations in the UK. In 1933, Clarke Transport was established to provide the very first direct road service between the industrial Midlands and Scotland. Today, with more than 450 employees and over 220 vehicles, Clarke Transport is in an industry-leading position with an impressive network of strategically located regional depots. Professional expertise, years of experience, a commitment to quality and superb customer service have really put Clarke Transport on the map.
The challenge
Clarke Transport were mandated by their insurance company to install telematics across their fleet – or risk being left uninsured. Having previously had a negative experience with a telematics provider that was expensive for the business with little return, Clarke Transport wanted to ensure clear ROI metrics from the beginning.
They laid out clear goals and expectations that they wanted their new telematics system to help them achieve:
Reduce insurance premiums
Improve driver safety
Achieve fuel savings
The solution
To achieve the goals set out by Clarke Transport, Masternaut recommended a combination of products and services. M400 hardware was installed across their permanent fleet, alongside an in-cab coach device to measure and improve driver behaviour. Pulse, the noinstall telematics solution, was recommended for their hire vehicles. All of these vehicles were set up on the Masternaut Connect platform so that the Fleet Manager (Nick Clarke) could immediately see where his vehicles were located, review driver behaviour stats, set-up automated reports and dive into the data.
Masternaut completed two hundred installs, at seven sites, over a two-week period with minimal business disruption. Clarke Transport's insurance company were provided with full access to the Connect platform via an API so that they could access the necessary reports and data at any given time.
The outcome
Fuel savings:
25% idling reduction
14% harsh driving reduction
2.3% MPG improvement
The in-cab coach device has enabled real-time training of Clarke Transport drivers, resulting in an immediate reduction of speeding and harsh events. With driver safety and fuel spend being so dependent on speed, the continuation of these results over time will lead to huge cost savings. Tasks are now fully completed on time and can be clearly tracked within the system. Previously, this was a huge internal frustration.
Masternaut telematics not only enabled Clarke Transport to secure an insurance agreement with their preferred provider, they were able to negotiate even better rates with the addition of Pulse. Pulse is Masternaut's no-install telematics devices that plugs directly into the cigarette lighter. Clarke Transport have used this device to give them visibility over their short-term hire vehicles which in the past had gone completely untracked.
What's next?
Depot managers at Clarke Transport intend to use their telematics data to reward drivers who are hitting their safety targets, and to support drivers who need to make improvements.
See the full Clarke Transport case study here.
Contact our specialists
Want to find out what Masternaut could do for your company? Contact our team for a free personalised demo.
BACK TO ALL EVENTS